There are a number of local builders with Energy Star Eligible homes available now! Contact Louise for information on Energy Star and other Green Built Homes!

About ENERGY STAR
Homes that earn ENERGY STAR must meet guidelines for energy efficiency set by the U.S. Environmental Protection
Agency. ENERGY STAR qualified homes are at least 15 percent more energy efficient than homes built to the 2004 International Residential Code (IRC).
ENERGY STAR qualified homes can include a variety of energy-efficient features, such as effective insulation, high performance windows, tight construction and ducts, efficient heating and cooling equipment, and ENERGY STAR qualified lighting and appliances. These features contribute to improved home quality and homeowner comfort, and to lower energy demand and reduced air pollution.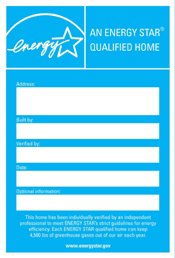 This label identifies a home as having
earned the ENERGY STAR.
ENERGY STAR qualified products and practices help you save money and reduce greenhouse gas emissions by meeting strict energy efficiency guidelines set by the U.S. EPA and U.S. DOE. The ENERGY STAR label also designates superior energy performance in homes and buildings.
In addition, Progress Energy supports energy conservation by offering a 5% discount on homes that receive "Energy Star" certification.